ALAMODOME CLEAR BAG POLICY
---
In an effort to enhance public safety, the Alamodome limits the size and types of bags that are permitted, during events. To expedite the fan entry process, the Alamodome encourages guests not to bring any bags; however, bags meeting the following specifications will be permitted, for most events:
Small bags and/or clutches - 5.5" x 8.5" or smaller
Clear Bags – (Plastic, vinyl, or PVC) 12" x 6" x 12"
1-Gallon Clear Freezer Bag – (Ziploc bag or similar) 12" x 12" or smaller
Exceptions:
Diaper Bags
Bags being labeled a "diaper bag" must be paired with a guardian and child, upon entry and contain diaper-changing related items, such as diapers, wipes, childcare needs, etc. Diaper bags are not subject to the 12"x6"x12" sizing, but will be screened prior to entry.
Medically Necessary Bags
The Medically Necessary Bag exception is only extended to bags that are specifically necessary/required for medical equipment and accommodations that cannot fit within the small bag or clear bag sizing, such as a lunchbox with ice pack to keep chilled medication, oxygen tank carrier/bag, large bag to carry a lactation pump, etc.
Medical related items that can fit into the small bag and clear bag sizing will not qualify for a larger medical bag exception, and should be brought in a bag that meets the small bag or clear bag requirements.
Examples of medical items that will not qualify for a Medically Necessary Bag outside of the clear bag and small bag specifications, include but are not limited to: medication, pill bottles, epi-pens, inhalers, syringes, snacks related to diabetic needs, etc. Items that do not require a bag larger than 12" x 6" x 12" should be brought in a bag that meets the small bag and/or clear bag specifications.
Without exception, all bags are subject to search and will be screened prior to entry, including medically necessary bags and diaper bags. Please refer to the graphic below or download the Bag Policy Flyer for more information.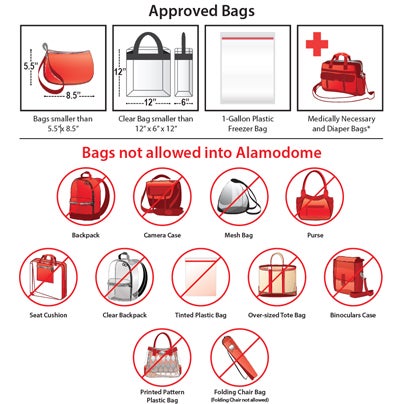 Prohibited Bags over 5.5" x 8.5":
Backpack (opaque or clear)
Camera Case
Mesh Bags
Purse
Seat Cushion
Tinted or Colored Plastic Bag
Plastic Shopping Bag
Over-sized Tote Bag
Binoculars Case
Printed Pattern Plastic Bag
Folding Lawn Chair Bag
Any non-clear bag larger than 5.5" x 8.5"
PLEASE NOTE: The above list is provided as a courtesy to patrons and is not intended to be inclusive of all types of bags that are not allowed into the building. The Alamodome reserves the right to prohibit any item deemed dangerous or unsuitable by Alamodome Security.
---
LEY DE BOLSOS TRANSPARENTES DEL ALAMODOME

El Alamodome sugieren no traer ninguna clase de bolsa de mano al estadio pero las siguientes son permitidas:

Bolso transparente que no supere las medidas de 12"x6"x12"
Bolso transparente para congelar de un galón de capacidad
Una cartera pequeña o bolsa de mano, con o sin correa, con una medida no mayor a 5.5" x 8.5". La correa no puede ser una cadena de metal.