SAN ANTONIO CONFIRMED AS HOST OF PRETEMPORADA MX 2021
SAN ANTONIO CONFIRMED AS HOST OF PRETEMPORADA MX 2021
Club América vs. Tigres and Chivas de Guadalajara vs. Rayados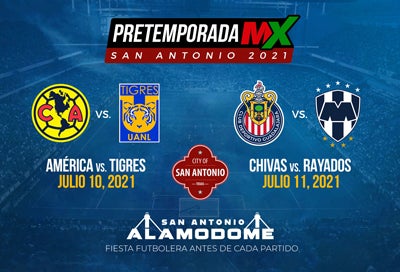 Los Angeles, CA – (Mayo 24, 2021) –PRIMETIME Sports officially announced that Pretemporada MX is coming to the Alamodome in San Antonio featuring four of the most powerful teams in Liga MX on the same weekend. The inaugural Pretemporada MX will consist of two electrifying matches as Club América takes on Tigres UANL on Saturday, July 10th while Chivas de Guadalajara plays Rayados Monterrey on Sunday, July 11th.
As part of their pre-season, four of Liga MX's most powerful teams in recent years will make history by playing in the same U.S. city on the same weekend. Various initiatives will take place around this exciting soccer celebration in the city of San Antonio.
There will be a Fan Fest taking place outside the stadium four hours prior to each game consisting of live music, food, team mascot, championship trophies and much more.
Tickets for both games will go on sale on Thursday, May 27that 10:00 a.m. CST and will be available at the stadium's box office and ticketmaster.
For press credentials for either game, please visit http://bit.ly/PretemporadaMXand select the desired game. For any other media-related questions, please send an e-mail to media@ptimesports.com.
ABOUT PRIMETIME SPORTS
PRIMETIME Sports Works with multinational brands, agencies and rights holders, as well as organizing and promoting international soccer games in the United States. For more information, please visit www.ptimesports.com.