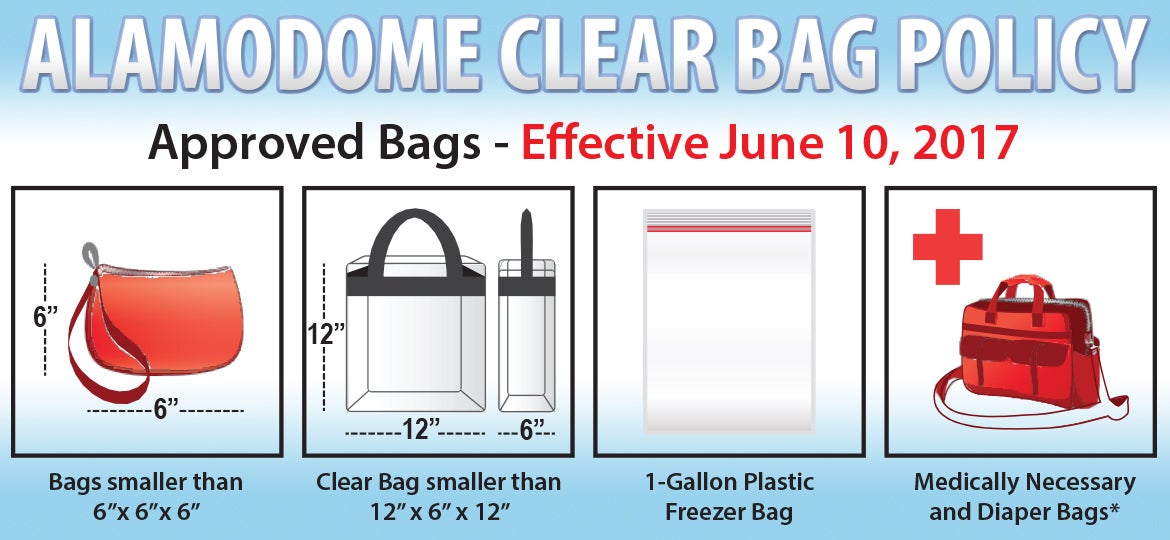 Alamodome to implement clear bag policy for all events
In the interest of the continued safety of Alamodome guests, the facility is instituting a Clear Bag Policy for all Alamodome events beginning June 10.
The Alamodome has modified its security policy by limiting the size and style of bags allowed into the stadium. Prohibited bags include, but are not limited to, the following: all purses, bags or containers larger than a small clutch purse (6 inches x 6 inches x 6 inches), briefcases, backpacks, fanny packs, cinch bags, computer bags, camera bags, binocular cases (binoculars may be worn around the neck) and seat cushions.
To be approved for entry into the Alamodome, bags or purses must be clear, plastic, vinyl or PVC, and cannot exceed 12 inches x 6 inches x 12 inches in size. Small, one-compartment, clutch purses that do not exceed 6 inches x 6 inches x 6 inches (with or without a handle or strap) also will be permitted. All bags will be subject to inspection at the entrance and may be subject to additional inspection inside the facility. The Alamodome reserves the right to prohibit any item deemed dangerous or unsuitable by Alamodome Security.
An exception will be made for medical necessary items and diaper bags after proper inspection at Alamodome entrances.
More information on the new Alamodome Clear Bag Policy, along with information about prohibited items, can be found on www.alamodome.com where patrons can also download a PDF flyer that illustrates the Clear Bag Policy.