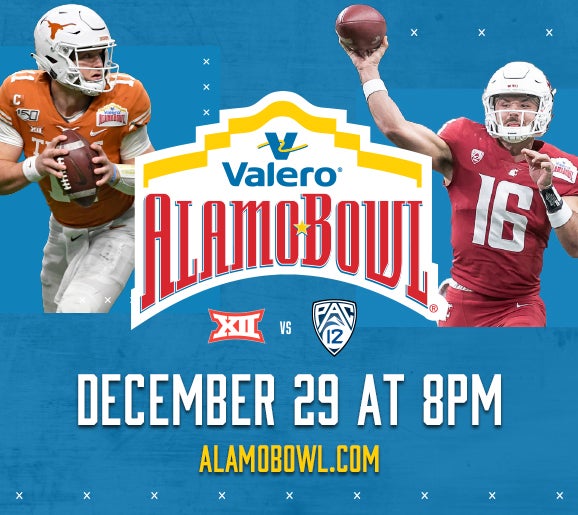 ---
Time
8:00PM
See Additional Ticket Information below for more detail.
Dec

29

Time: 8:00PM / Doors: 6:00 PM
Valero Alamo Bowl - Dec. 29
The 28th annual Valero Alamo Bowl will be played at the Alamodome in San Antonio on Tuesday, December 29 in an exclusive primetime window. Kickoff time will be 8 p.m. CST.
Matching up the top teams from the Big 12 and Pac-12 conferences after the CFP selections, the 2020 Valero Alamo Bowl is on a familiar date as 11 past games have also kicked off on December 29.
Additional Ticket Information

Related Links

PLEASE DO YOUR PART

Do it for yourself. Do it for others. Please do your part.

Wear Your Mask — Face coverings are required in all public and common spaces.
Keep your Distance — Maintain at least six feet physical distance from others and avoid common areas. Use technology to limit social interaction.
Wash Up — Wash your hands with soap and water regularly.
Check Yourself — Monitor yourself vigilantly to check for common symptoms of COVID-19.
Stay Home — Stay home if you feel sick.

CLEANING & SANITIZING

Enhanced cleaning and sanitization procedures will be implemented prior to and during the Valero Alamo Bowl at the Alamodome. The facility uses cleaning products and protocols which meet EPA guidelines and are approved for use and effective against viruses, bacteria and other airborne and bloodborne pathogens. The Alamodome is working with vendors, distribution partners and suppliers to ensure an uninterrupted supply of these cleaning supplies and the necessary PPE. The frequency of sanitizing has been increased in all spaces with an emphasis on areas to include:

A rigorous cleaning and sanitation protocol has been established to ensure the health and safety of employees and customers.
Protocol is based on the Centers for Disease Control and Prevention (CDC) and Association of Physical Plant Administrators (APPA) established cleaning standards for facilities.
Sanitation stations (handwashing and handwipe stations will be located throughout the inside of the Alamodome and aggressive sanitation practices will be in place for staff.
The Alamodome will continually clean air handler units.

BOX OFFICE AND SUITES

GAME DAY BOX OFFICE HOURS:

General Will-Call is located at the NE Box Office beginning at 10:00 AM game day.

The Pac-12 Will-Call and Player-Guest is located in the SE box office. Open time is determined by the Pac-12 University.

The Big 12 Will-Call and Player-Guest is located in the SW box office. Open time is determined by the Big 12 University.

STANDARD BOX OFFICE HOURS:
The Alamodome Box Office is a walk-up service open Monday through Friday, 10:00AM-5:00PM. Box Office Parking is located in lot A.

Methods of Payment Accepted: The Alamodome Box Office can accept cash, Visa, MasterCard, American Express, or Discover. We do not accept checks as a method of payment.

DIGITAL TICKETING:

Fans will be encouraged to take advantage of mobile ticketing for the 2020 game. For more information, please visit the Valero Alamo Bowl website.
To expedite entry and ensure the safest possible game day experience, fans should download their tickets prior to arrival and enter through the entrance shown on their ticket.


ALAMODOME SUITES:

All guests will be required to wear a face covering while inside of the suites unless eating or drinking.
The suite door may remain open in order to circulate air. However, signage will be placed outside of each suite indicating, "Authorized personnel and guests only. Please, no visitors."


ARRIVAL, ENTRY & EXIT

ARRIVAL, FACE COVERINGS & TEMPERATURE CHECKS

FACE COVERINGS ARE REQUIRED (must cover both nose and mouth). Please have your mask on prior to entering the security screening areas. Face coverings must be worn properly (covering the nose and mouth) by all fans present at the Alamodome except when eating or drinking in their seat.
All guests will be subject to a temperature test prior to entry. Anyone displaying a temperature over 99.6°F will be taken to a secondary private area for a secondary temporal temperature screening. Employees or guests confirmed to have a temperature over 99.6°F and exhibit any signs of COVID-19 will not be allowed entry to the property and will be directed toward appropriate medical care and given written refund instructions.

GATE PLAN

In order to encourage physical distancing and minimizing larger crowds in the main entrances in the concourses, we have created a gate plan to disseminate the crowds throughout the various entrances to the Alamodome.

Doors will open to the public beginning two hous prior to kickoff.
Guests are asked to enter the Alamodome at the assigned entrance on their ticket.
Signage will be posted outside the Alamodome to help direct ticket holders to the correct entrance.
Digital tickets will be encouraged and contactless ticket scanners will be in place.
All guests will be advised to practice physical distancing, including standing at least six feet away from other groups of people not traveling with them while standing in lines, and avoiding the use of using elevators.

CLEAR BAG POLICY

The Alamodome's Clear Bag Policy remains in effect for the 2020.

EXIT PLAN

The Alamodome will utilize a controlled exit plan for all guests.

Fans will be released by row, beginning with those closest to exits.
Public address announcements, video board messaging and signage will help facilitate the exit plan.
Fans will be notified by their section usher when it is their turn to exit their seats and the facility.
Guests will exit the Alamodome through the nearest gate.

GAME DAY SAFETY AND SECURITY

PHYSICAL DISTANCING:

All guests will be advised to practice physical distancing, including standing at least six feet away from other groups of people not traveling with them while standing in lines, and avoiding the use of elevators.

FACE COVERINGS:

Face coverings must be worn properly (covering the nose and mouth) by all fans present at the Alamodome except when eating or drinking in their seat. Following State of Texas guidelines, exemptions apply for young children and persons who are unable to adjust or remove face coverings.

SIGNAGE:

Appropriate signage will be prominently displayed outlining proper face covering usage, the temperature reading and screening process and current physical distancing practices in use throughout the Alamodome. Any area where guests queue will be clearly marked for appropriate physical distancing.

SEATING AREAS:

Based on the occupancy guidelines established by the Governor and the Mayor, the Alamodome and the Valero Alamo Bowl have implemented a reduced seating capacity for the game. Seating spacing will be predicated on a physical distancing model throughout the entire seating bowl inside the Alamodome. Capacity may be adjusted dependent on updated guidance.

Every other row will be closed.
Various-sized seating blocks will be available throughout the bowl and four seats will separate each seating block.
All closed seats will have a Seatshield (sign) on each seat prohibiting anyone from using that seat.
Ushers will continually monitor all seating areas to ensure the closed seats are not compromised.

CLEAR BAG POLICY IN EFFECT

Clear bag policy enforced. All attendees will have their bags checked prior to entering the building. For information on the types of bags allowed, download the Clear Bag Policy PDF Flyer.

PLEASE NOTE: The above list is provided as a courtesy to patrons and is not intended to be inclusive of all types of bags that are not allowed into the building. The Alamodome reserves the right to prohibit any item deemed dangerous or unsuitable by Alamodome Security.

LEY DE BOLSOS TRANSPARENTES DEL ALAMODOME

El Alamodome sugieren no traer ninguna clase de bolsa de mano al estadio pero las siguientes son permitidas:

Bolso transparente que no supere las medidas de 12" x 6" x 12"
Bolso transparente para congelar de un galón de capacidad
Una cartera pequeña o bolsa de mano, con o sin correa, con una medida no mayor a 5.5" X 8.5". La correa no puede ser una cadena de metal.

PROHIBITED ITEMS

PLEASE NOTE: Pocket knives, pepper spray and purse/wallet chains are prohibited items and are not allowed into the Alamodome. All attendees are subject to bag check prior to entering the building. The Alamodome reserves the right to prohibit any item deemed dangerous or unsuitable by Alamodome Security.

The following items are prohibited to enter the building for this game:

Weapons, firearms, knives
Noisemakers
Footballs
Laser pointers
Fireworks
Sealed packages
Selfie sticks, monopods, tripods, camera bags, GoPros, drones
Flags attached to poles
Bottles or cans, coolers or containers
Outside food or beverage
Animals (with the exception of service or guide animals)

Prohibited items per event are subject to change without notice. A full list of prohibited items can be found here.

PARKING

ALAMODOME LOTS OPEN: 10:00 AM on game day.

ALAMODOME PARKING: A new contactless parking management system that can accept cash or credit card payment will be in place at all Alamodome parking lots, which will open two hours prior to kickoff.

Limited Disabled Parking available. Disabled Drop-off ONLY is located in lot A. No In & Out parking.

Paid parking is also available at the Convention Center lot located at the corner of Montana Street and Tower of Americas Way.

For a map to alternative downtown parking lots CLICK HERE.

GUEST ASSIST SERVICES

Guest Assist: Desks located at North and South Plaza entrances as well as the North and West Club Level.


ADA Guest Assist: Staff Pro cart transport from Lot A to SW Loading Dock is available for ADA or other guests requesting assistance.

PHONE CHARGING STATIONS

Complimentary Phone Charging Stations will not be available at this time.

ATM LOCATIONS

Field Level:
North bottom of escalators

Plaza Level:
NW corner near section 141
NE corner near section 105
SE corner near section 119
SW corner near section 127

Club Level:
Near section 240

Upper Level:
Outside section 305

CONCESSIONS AND MERCHANDISE

CONCESSIONS:

The Alamodome has implemented updated protocols for all concessions areas. Patrons will have access to mobile food ordering and cashless operations. Additional safety measures, including plexiglass shields and express pick-up stations will be implemented. Condiments and individually-wrapped utensils will be provided upon request.

CASHLESS OPERATIONS:

The Alamodome will transition to a cashless operation, but will still have the ability to accept cash if the patron has no other payment method.

MOBILE ORDERING:

Patrons can scan an advertised QR code for food ordering and cashless operations. More information regarding the service will be added to this page when it becomes available.

MERCHANDISE:

Official Valero Alamo Bowl merchandise as well as exclusive locker room product can be purchased online at alamobowl.com.

FIRST AID AND NURSING MOTHER ROOM

FIRST AID LOCATIONS:

TBA

NURSING MOTHER ROOM:

TBA

LOST & FOUND

All found items should be turned in to the North Plaza Concierge Desk.

UBER/LYFT RIDE SHARE AREA

The designated ride share pickup and drop off location is at Montana and Tower of the America's Way on the southbound I-37/281 Access Road.