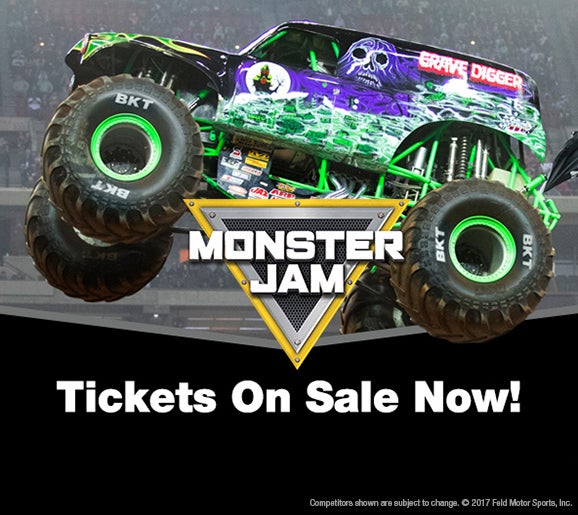 Jan

12

Time: 7:00PM

Jan

13

Time: 3:00PM
ALAMODOME 2019 EVENT DATES:
SATURDAY, JAN. 12 at 7:00 PM
SUNDAY, JAN. 13 at 3:00 PM
Monster Jam® is adrenaline-charged family entertainment providing jaw-dropping displays and gravity-defying feats that promises to always leave fans entertained. Monster Jam events feature some of the most recognizable trucks in the world including Grave Digger®, Max-D, El Toro Loco® and many more. Our world-class drivers push these perfectly engineered Monster Jam trucks to their limits in Freestyle, "2-Wheel Skills" and Racing competitions that will put families on the edge of their seats and leave them craving more of this unexpected, unscripted and unforgettable event!
CLEAR BAG POLICY IN EFFECT

Clear bag policy enforced. All attendees will have their bags checked prior to entering the building. For information on the types of bags allowed, download the Clear Bag Policy PDF Flyer.

PLEASE NOTE: The above list is provided as a courtesy to patrons and is not intended to be inclusive of all types of bags that are not allowed into the building. The Alamodome reserves the right to prohibit any item deemed dangerous or unsuitable by Alamodome Security.

LEY DE BOLSOS TRANSPARENTES DEL ALAMODOME

El Alamodome sugieren no traer ninguna clase de bolsa de mano al estadio pero las siguientes son permitidas:

Bolso transparente que no supere las medidas de 12" x 6" x 12"
Bolso transparente para congelar de un galón de capacidad
Una cartera pequeña o bolsa de mano, con o sin correa, con una medida no mayor a 5.5" X 8.5". La correa no puede ser una cadena de metal.