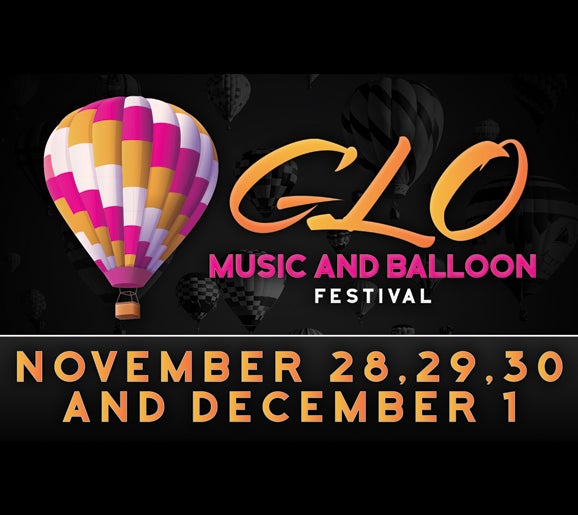 GLO MUSIC AND BALLOON FESTIVAL
---
See Additional Ticket Information below for more detail.
Nov

28

Time: 5:00PM

Nov

29

Time: 5:00PM

Nov

30

Time: 4:00PM

Dec

01

Time: 4:00PM
ABOUT THE SHOW

---

GLO MUSIC AND BALLOON FESTIVAL: Carnival rides, arts & crafts, food vendors, tethered balloon rides. All balloon inflations are subject to wind and weather conditions and the sold discrection of the pilots per safety regulations. Carnival provider sells tickets and wristbands that may be used all night. Parking is for a fee. All General Admission and VIP tickets are NON-REFUNDABLE for any reason. Tethered Balloon ride tickets are refundable at the point of purchase only. This is a weather related event. Even though you purchase a ticket for a specific day you may use the ticket for any day.
Additional Ticket Information

Related Links

BOX OFFICE HOURS

PLEASE NOTE: Glo Festival tickets are on sale at the gate in Alamodome parking lot B on event dates and in advance via the event website.

GLO Festival Tickets ARE NOT AVAILABLE at the Alamodome Box Office.

PARKING

Alamodome (cash only) parking is available in lot C.

$10 - Nov. 28 (Thanksgiving Day)

$15 - Nov. 29 - Dec. 1

Limited Disabled Parking available. Disabled Drop-off ONLY is located in lot A. No In & Out parking.

BAG POLICY

The Alamodome Clear Bag policy IS NOT be enforced in Parking lot B but all attendees will have their bags checked prior to entering the GLO Festival event area. PLEASE NOTE: All patrons must pass through metal detectors and wanding at the security enterance.

PROHIBITED ITEMS

PLEASE NOTE: Pocket knives, pepper spray and purse/wallet chains are prohibited items and are not allowed into Alamodome Parking lot B. All attendees are subject to bag check prior to entering the event. The Alamodome reserves the right to prohibit any item deemed dangerous or unsuitable by Alamodome Security.

Strollers, diaper bags and camera bags ARE ALLOWED in Alamodome Parking lot B but are subject to a security search.

The following items are prohibited from entering the Alamodome Parking Lot B secured area:

Weapons, firearms, knives
Noisemakers
Laser pointers
Fireworks
Sealed packages
Drones
Flags attached to poles
Bottles or cans, coolers or containers
Outside food or beverage
Animals (with the exception of service or guide animals)

Prohibited items per event are subject to change without notice. A full list of prohibited items can be found here.

UBER/LYFT RIDE SHARE AREA

The designated ride share pickup and drop off location is at Montana and Tower of the America's Way on the southbound I-37/281 Access Road.