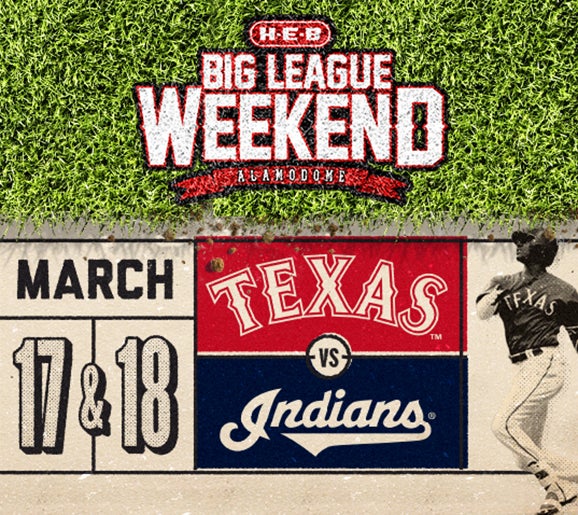 ---
Cleveland Indians vs. Texas Rangers
Ticket Prices
$10 - $77
Mar

17

Time: 1:41PM

Mar

18

Time: 1:41PM
This will be the fifth year for H-E-B Big League Weekend, a two-game Major League Baseball exhibition hosted at the iconic Alamodome in downtown San Antonio. Attendance has averaged more than 60,000 fans per weekend over the first four years of the event.
Ryan Sanders Baseball, whose principal ownership group includes Hall of Famer Nolan Ryan, produces the event in partnership with the Texas Rangers, the City of San Antonio, the San Antonio Convention and Visitors Bureau and the San Antonio Missions.
"We made a commitment to the City of San Antonio, H-E-B and all our other event partners that we would bring in the best teams possible every year," said Big League Weekend Executive Director J.J. Gottsch. "With the Indians and Rangers both clinching division championships, we couldn't feel better about the 2017 matchup."
This will be the second straight year that both H-E-B Big League Weekend teams were previous year division champions, and the third straight year that at least one club was a division champion. The only year that at least one H-E-B Big League Weekend club was not a previous year playoff representative was in 2014, after the Rangers lost a tie-breaking 163rd game against the Tampa Bay Rays in 2013.