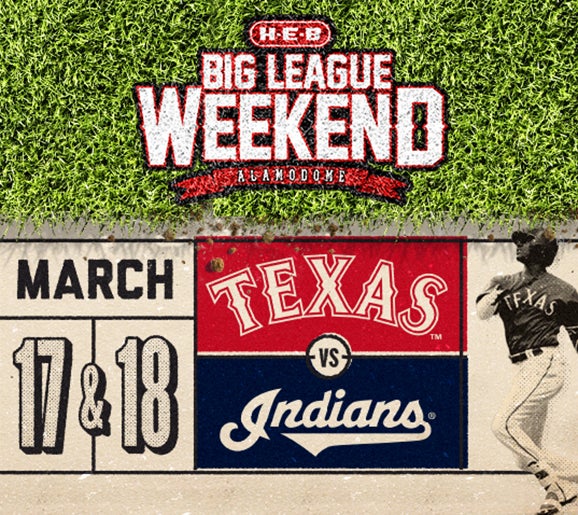 ---
Cleveland Indians vs. Texas Rangers
Ticket Prices
$10 - $77
Mar

17

Time: 7:05PM

Mar

18

Time: 2:05PM
It's slated to be another showdown as the American League Champion Cleveland Indians will face off against the American League West Division Champion Texas Rangers March 17-18 in San Antonio.
The 5th Annual H-E-B Big League Weekend offers something for fans of all ages. In addition to two MLB spring training exhibition games at the iconic Alamodome, there is a Fan Fest that takes place prior to both games just outside the main doors to the stadium.
Once inside, fans can enjoy pre-game batting practice (and take home a souvenir foul ball or home run!), or stop by the sports collectible show and meet former major leaguers and get pictures taken with championship trophies. Following the games, fans are encouraged to go down to the field and enjoy post-game concerts from Smash Mouth (3/17) and Los Lonely Boys (3/18).
POSTGAME CONCERTS

Smash Mouth and Los Lonely Boys to Rock Big League Weekend

Smash Mouth and Los Lonely Boys will headline the postgame concerts at H-E-B Big League Weekend! The performances, presented by H-E-B and Pepsi, take place on the centerfield stage following the games between the Rangers and Indians. Smash Mouth will get their game on and go play the iconic Alamodome after the game on March 17. Following game two on March 18, heaven won't be far away as Los Lonely Boys take the stage. All fans with a game ticket will be invited on the field after the game to enjoy the live music up close and personal.

ULTRA PRO SPORTS COLLECTIBLE SHOW

Ultra PRO Sports Collectible Show returns to H-E-B Big League Weekend

The Ultra PRO Sports Collectible Show is returning to H-E-B Big League Weekend bigger and better than ever! Former Houston Astros great José Cruz will be on hand both nights to sign autographs. Thanks to Ultra PRO and Topps, the first 2,500 fans to visit the show will receive a commemorative H-E-B Big League Weekend baseball card along with a set of Topps baseball cards. The 2010, 2011 and 2016 American League Championship trophies will also be on display for photo opportunities. Finally, collectors can meet with dealers from across the region to buy and sell sports cards, autographs and memorabilia. Located on the South Club Level of the Alamodome, the event is free for all guests with a game ticket. More information is available at BigLeagueWeekend.com.

GROUP TICKET OPTIONS

H-E-B Big League Weekend brings affordable family fun to the Alamodome

With tickets starting at just $10 and activities for every member of the family, there's no better way to spend your Spring Break than in San Antonio watching Major League Baseball. Looking to bring the whole family? Save even more with our group ticket options. Email [email protected] to reserve the best seats in the house for your party.

LIVE THE SUITE LIFE

Live the suite life this spring break

Want to enjoy H-E-B Big League Weekend in style? Take advantage of one of our premium suites and be the host with the most! Up to 20 game tickets and multiple catering options will make you a hit with your friends and family. Email [email protected] for suite availability and pricing.

CALLING ALL YOUTH LEAGUES

Calling all Youth Leagues: Join our Pregame Parade

Youth League Day at H-E-B Big League Weekend returns on Saturday, March 18. Youth League teams receive discounted ticket prices, a chance to join the Texas Rangers and Cleveland Indians on the field before the game, and participate in a pregame parade around the Alamodome warning track. For more information or to order, email Stu Scally at [email protected] or call 512-238-2258.

KINGS OF THE DIAMOND DINNER

Limited individual tickets to Kings of the Diamond Dinner available

A very limited quantity of individual tickets to the fifth annual Kings of the Diamond dinner are now available! This year's event features reigning American League Manager of the Year Terry Francona and Hall of Famer Nolan Ryan. The dinner takes place on Thursday, March 16 at the Hyatt Regency Riverwalk. Doors open at 6 p.m. with dinner starting at 7 p.m. A limited number of preferred-seating tables also remain. For more information, visit BigLeagueWeekend.com, email [email protected] or call Elisa Fogle at 210-229-1847.