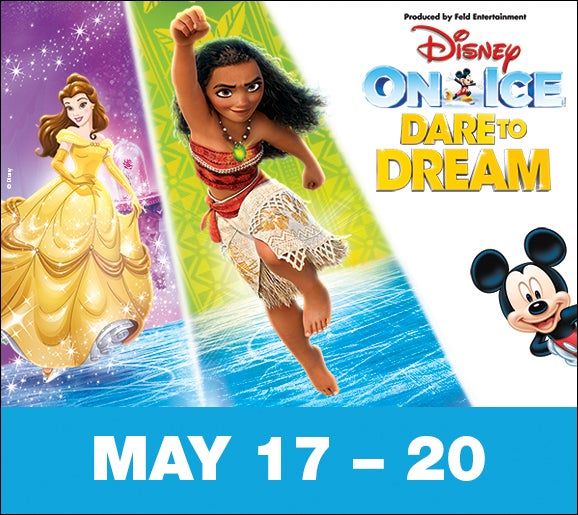 Disney On Ice presents Dare to Dream
---
May

17

Time: 7:00PM

May

18

Time: 7:00PM

May

19

Time: 11:00AM

May

19

Time: 3:00PM

May

19

Time: 7:00PM

May

20

Time: 1:00PM

May

20

Time: 5:00PM
Disney On Ice presents Dare to Dream
Alamodome • May 17 - 20
Mickey Mouse and Minnie Mouse bring the Disney magic to life with a fast-paced, fun, live experience that immerses fans of all ages in the moving stories of Moana, Beauty and the Beast, Frozen, Tangled and Cinderella.
BOX OFFICE HOURS

EVENT DAY BOX OFFICE HOURS:
TBA

STANDARD BOX OFFICE HOURS:
The Alamodome Box Office is a walk-up service open Monday through Friday, 10:00AM-5:00PM.

Methods of Payment Accepted: The Alamodome Box Office can accept cash, Visa, MasterCard, American Express, or Discover. We do not accept checks as a method of payment.

PARKING

$25 (cash only) parking is available in Alamodome lots B and C.

Limited Disabled Parking available. Disabled Drop-off ONLY is located in lot A. No In & Out parking.

CLEAR BAG POLICY IN EFFECT

Clear bag policy enforced. All attendees will have their bags checked prior to entering the building. For information on the types of bags allowed, download the Clear Bag Policy PDF Flyer.

PLEASE NOTE: The above list is provided as a courtesy to patrons and is not intended to be inclusive of all types of bags that are not allowed into the building. The Alamodome reserves the right to prohibit any item deemed dangerous or unsuitable by Alamodome Security.

LEY DE BOLSOS TRANSPARENTES DEL ALAMODOME

El Alamodome sugieren no traer ninguna clase de bolsa de mano al estadio pero las siguientes son permitidas:

Bolso transparente que no supere las medidas de 12" x 6" x 12"
Bolso transparente para congelar de un galón de capacidad
Una cartera pequeña o bolsa de mano, con o sin correa, con una medida no mayor a 5.5" X 8.5". La correa no puede ser una cadena de metal.