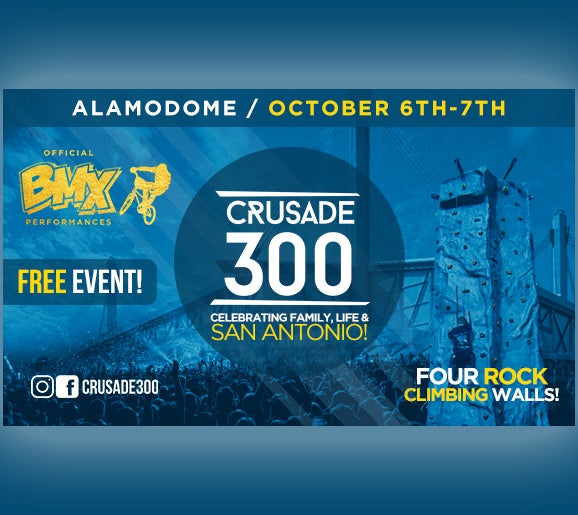 ---
See Additional Ticket Information below for more detail.
Oct

06

Time: TBA

Oct

07

Time: TBA
Pastor Jimmy Robles with Last Chance Ministries has teamed up with Ed Garza, Coordinator for the late Pastor Billy Graham's "Crusade" Ministry and many other local community leaders to bring a city-wide effort to lead people to a new and deeper relationship with Jesus Christ. What makes this official SA300 Tricentennial event different from many revivals is it appeals to all ages. This two-day evangelization event will be filled with excitement from Praise and Worship, Rock Climbing Walls, Motor Cycle Show, BMX Show, Dancers, Fashion Show for Special Need Children and over 100 musicians from the San Antonio Community. Crusade 300 will also invite the communities from all over to come and listen to music heard from Tejano, Salsa, Mariachis, Gospel and much more! 300 people will be on the stage in the Alamodome throughout the night in celebration of SA300 Tricentennial.
This two-day official SA300 Tricentennial Evangelization event will take place Friday and Saturday, October 6-7, 2018 at the Alamodome. It is FREE to the public and everyone is invited from all over the country to come and see how this crusade will lead people to a new and deeper relationship with Jesus Christ.
Additional Ticket Information

FREE Public Event. Tickets are not required.

Related Links

OCT. 6 Schedule of Events

Saturday, October 6

7:30 a.m.
Registration for 5K
7:30 a.m.
Vendor registration & set-up
8:00 a.m.
5K begins at the Alamodome's H-E-B Plaza
11:30 a.m.
Registration for gaming tournament
12:00 p.m.
Gaming tournament begins
12:00 p.m. – 4:00 p.m.
Motorcycle rally, prayer circles
2:00 p.m.
Alamodome doors open
3:00 p.m. – 6:45 p.m.

BMX and skateboarding exhibitions
Basketball Clinic/Volleyball Celebrity Match
Live bands, including Relent
Live worship painting
Rockwall climbing

6:45 p.m. – 8:45 p.m.
Worship main stage featuring:

Mariachi music
100+ San Antonio musicians, dancers, and singers
Special guest speakers

6:45 p.m. – 8:30 p.m.
Runway show for children with special needs
8:30 p.m. – 9:45 p.m.
Sermon by Pastor Jimmy Robles, altar call

OCT. 7 Schedule of Events

Sunday, October 7th

2:00 p.m.
Alamodome doors open
3:00 p.m. – 4:30 p.m.
Sunday worship service
5:00 p.m. – 6:45 p.m.
BMX and skateboarding exhibitions, live music, rockwall climbing
6:45 p.m. – 8:30 p.m.
Worship main stage featuring:

Mariachi music
100+ San Antonio musicians, dancers, and singers
Special guest speakers

8:30 p.m. – 9:45 p.m.
Sermon by Pastor Jimmy Robles, altar call