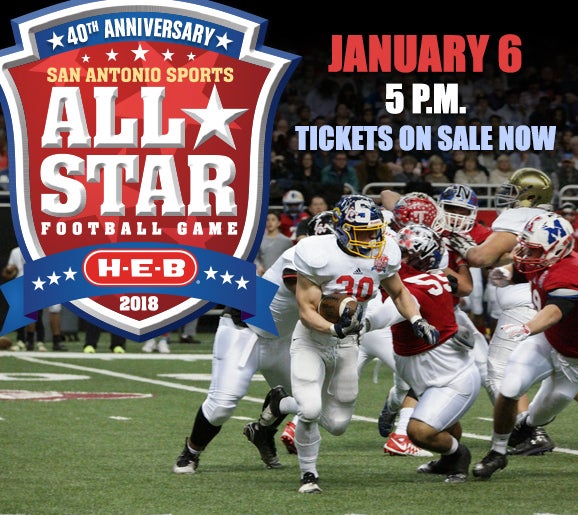 San Antonio Sports All-Star Football Game
---
Presented by H-E-B
Time
5:00PM
See Additional Ticket Information below for more detail.
More than 100 players representing Bexar County and the seven surrounding counties are chosen to showcase the area's top football talent in the Alamodome for an all-star football game. Players are nominated through their varsity coaches, and selected by an all-star selection committee. The game features athletes committed to play for some of the top universities in the country, as well as players looking for an additional chance to impress college recruiters with potential scholarships to offer before National Signing Day.
Additional Ticket Information

PLEASE NOTE: The U.S. Army All-American Bowl ticket also serves as your ticket to the San Antonio Sports All-Star Football Game Presented by H-E-B. The SAS All-Star Game kicks off at 5:00pm, CST. A ticket is not required for anyone age two (2) years and younger, as long as the child shares the seat with an adult. The East Team will be seated on the East Side of the Alamodome and be considered the Home Team and the West Team will be seated on the West Side of the Alamodome and be considered the Away Team.

BOX OFFICE HOURS

STANDARD BOX OFFICE HOURS:
The Alamodome Box Office is a walk-up service open Monday through Friday, 10:00AM-5:00PM.

Methods of Payment Accepted: The Alamodome Box Office can accept cash, Visa, MasterCard, American Express, or Discover. We do not accept checks as a method of payment

CLEAR BAG POLICY IN EFFECT

Clear bag policy enforced. All attendees will have their bags checked prior to entering the building. For information on the types of bags allowed, download the Clear Bag Policy PDF Flyer.

PLEASE NOTE: The above list is provided as a courtesy to patrons and is not intended to be inclusive of all types of bags that are not allowed into the building. The Alamodome reserves the right to prohibit any item deemed dangerous or unsuitable by Alamodome Security.

LEY DE BOLSOS TRANSPARENTES DEL ALAMODOME

El Alamodome sugieren no traer ninguna clase de bolsa de mano al estadio pero las siguientes son permitidas:

Bolso transparente que no supere las medidas de 12" x 6" x 12"
Bolso transparente para congelar de un galón de capacidad
Una cartera pequeña o bolsa de mano, con o sin correa, con una medida no mayor a 5.5" X 8.5". La correa no puede ser una cadena de metal.

ATM LOCATIONS

Field Level:
North bottom of escalators

Plaza Level:
NW corner near section 141
NE corner near section 105
SE corner near section 119
SW corner near section 127

Club Level:
Near section 240

Upper Level:
Outside section 305

UBER/LYFT RIDE SHARE AREA

The designated ride share pickup and drop off location is at Montana and Tower of the America's Way on the southbound I-37/281 Access Road.