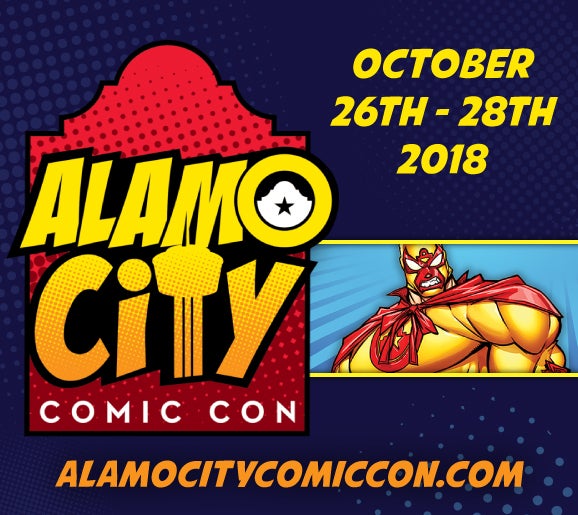 ---
See Additional Ticket Information below for more detail.
Oct

26

Time: 3:00PM

Oct

27

Time: 10:00AM

Oct

28

Time: 10:00AM
ABOUT THE SHOW

---

Locally grown in our own backyard by the fans and for the fans, we are Alamo City Comic Con. As one of the largest comic conventions in the United States, we are proud to celebrate all things comics & pop culture. We invite you to join us at the Alamodome Oct. 26-28.
Additional Ticket Information

TICKETS ARE AVAILABLE AT THE ALAMODOME BOX OFFICE ON SHOW DATES. FOR ADVANCE TICKET SALES, EVENT INFORMATION AND SCHEDULE, VISIT THE ALAMO CITY COMIC CON WEBSITE.

BOX OFFICE HOURS

EVENT DAY BOX OFFICE HOURS:
TBA

STANDARD BOX OFFICE HOURS:
The Alamodome Box Office is a walk-up service open Monday through Friday, 10:00AM-5:00PM.

Methods of Payment Accepted: The Alamodome Box Office can accept cash, Visa, MasterCard, American Express, or Discover. We do not accept checks as a method of payment.

BAG POLICY

ACCC 2018 BAG POLICY

ALLOWED ITEMS:

Tote Bags
Drawstring Bags
Diaper Bags
Poster Tubes
Portfolio Carriers

NO FULL SIZE BACKPACKS ALLOWED

All bags will be subject to search. All guest must pass through metal detector security checks.

COSPLAY RULES

For the safety of all attendees all Cosplay will be inspected by SAPD prior to entrance.

Items deemed weapons may be confiscated.

PROHIBITED ITEMS

PLEASE NOTE: Pocket knives, pepper spray and purse/wallet chains are prohibited items and are not allowed into the Alamodome. All attendees are subject to bag check prior to entering the building. The Alamodome reserves the right to prohibit any item deemed dangerous or unsuitable by Alamodome Security.

The following items are prohibited to enter the building for this show:

Weapons, firearms, knives
Noisemakers
Laser pointers
Fireworks
Sealed packages
Selfie sticks, monopods, tripods, camera bags, GoPros, drones
Flags attached to poles
Bottles or cans, coolers or containers
Outside food or beverage
Animals (with the exception of service or guide animals)

Prohibited items per event are subject to change without notice. A full list of prohibited items can be found here.

ATM LOCATIONS

Field Level:
North bottom of escalators

Plaza Level:
NW corner near section 141
NE corner near section 105
SE corner near section 119
SW corner near section 127

Club Level:
Near section 240

Upper Level:
Outside section 305

LOST & FOUND

All found items should be turned in to the North Plaza Concierge Desk.

UBER/LYFT RIDE SHARE AREA

The designated ride share pickup and drop off location is at Montana and Tower of the America's Way on the southbound I-37/281 Access Road.