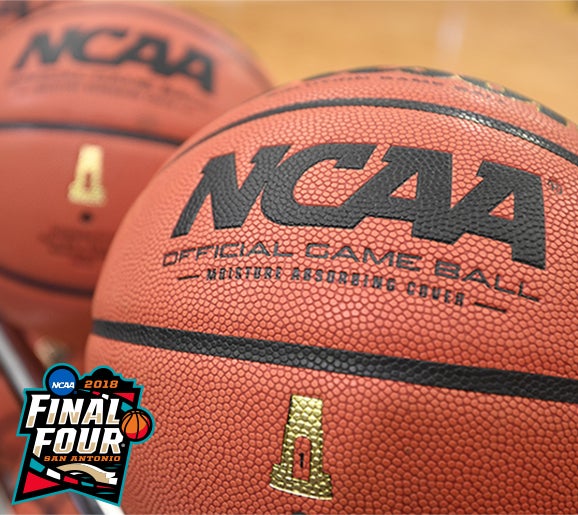 2018 NCAA Men's Final Four
---
See Additional Ticket Information below for more detail.
Mar

31

Time: TBA

Apr

02

Time: TBA
The NCAA Men's Final Four is returning to San Antonio in 2018. Fans are invited to partake in the city's 300th anniversary celebration that coincides with the March 30 through April 2 national semifinal and championship games.
Getaway packages, entertainment discounts and more destination information can be found at visitsanantonio.com.
Additional Ticket Information

2018 NCAA FINAL FOUR IN SAN ANTONIO
Ticket Application Process Closed May 31, 2017

For tournament information visit the NCAA website.

BOX OFFICE HOURS

EVENT DAY BOX OFFICE HOURS:

Fri, 3/30 - 10:00AM - 6:00PM
Sat, 3/31 - 2:30PM - *End of game
Sun, 4/1 - TBD
Mon, 4/2 - 5:30PM - Halftime

*Box office will be open after last semifinal game for PrimeSport sales if available.

CLEAR BAG POLICY IN EFFECT

Clear bag policy enforced. All attendees will have their bags checked prior to entering the building. For information on the types of bags allowed, download the NCAA Final Four Clear Bag Policy PDF Flyer.

PLEASE NOTE: The attached list is provided as a courtesy to patrons and is not intended to be inclusive of all types of bags that are not allowed into the building. The Alamodome reserves the right to prohibit any item deemed dangerous or unsuitable by Alamodome Security.

PARKING

PLEASE NOTE: Alamodome on-site facility parking is SOLD OUT for all Final Four games. Fans are encouraged to utilize alternative downtown parking lots or Rideshare and Taxi services. The Alamodome is within walking distance of most downtown hotels and public parking lots. For more information:

Link to a list of alternative downtown San Antonio parking lots

PLEASE ALSO NOTE: VIA Park & Ride service is available only for the NCAA Final Four Fan Fest and March Madness Music Festival. Visit the VIA website for more information.

2018 NCAA March Madness Music Festival

Maroon 5, Imagine Dragons to Perform at the 2018 NCAA March Madness Music Festival in San Antonio

March 30 – April 1

Three-Day Music Festival to Provide Fans in San Antonio with Performances from Chart-Topping Artists.

Live Streaming Coverage Available Through NCAA.com, BleacherReport.com & NCAA March Madness YouTube Channel

The 2018 NCAA March Madness Music Festival – presented by the NCAA, Turner Live Events and official NCAA Corporate Champions AT&T, Coca-Cola and Capital One – lands at Hemisfair in San Antonio as part of this year's NCAA Final Four celebration. The three-day free music festival – annually produced by Turner Live Events – features the return of Maroon 5 and Imagine Dragons,both of whom have delivered electric performances in years past during the most anticipated weekend in college sports. Additional performers will be announced in the coming weeks.

The star-studded festival will open with the AT&T Block Party on Friday, March 30, with performers to be announced. On Saturday, March 31, Grammy award-winning band Imagine Dragons will hit the stage as the Coca-Cola Music headliner. Grammy award-winning global pop band Maroon 5 will headline the Capital One JamFest on Sunday, April 1, closing out the fan-filled weekend. Both headliners have given stellar performances at past festivals with Imagine Dragons appearing in 2015 in Indianapolis and Maroon 5 in 2016 in Houston.

The NCAA March Madness Music Festival will also provide live streaming coverage of many of the stellar performances via ncaa.com, bleacherreport.com, and the official NCAA March Madness YouTube channel. For more details about the weekend, fans can stay up-to-date by visiting ncaa.com/musicfest, following @FinalFour on Twitter or downloading the Final Four app presented by AT&T.

MERCHANDISE AREAS

MERCHANDISE LOCATIONS:

Merchandise Superstore: NE Corner of North Plaza
Merchandise Stand: West End of North Plaza
Merchandise Stand: Center of Half Moon
Merchandise Stand: Center of South Plaza

ATM LOCATIONS

Plaza Level: Section 105, 119, 128 and 141
Club Level: Section 240
Upper Level: Section 305
Field Level: Bottom of escalator

FIRST AID AND NURSING MOTHER ROOM

FIRST AID LOCATIONS:

Sections 112, 134, 205, 307, 337

NURSING MOTHER ROOM:

First Aid Room at section 134